Indice dei contenuti
In interior design, wallpaper is an element that is often underestimated, but actually has the power to completely transform the look and feel of a room.
It is not just an aesthetic detail: it can be a real star in decoration, capable of giving personality, style and a touch of luxury to rooms.
In this article, we will explore the different types of wallpaper, how to choose the one that best suits your needs, and how Zefiro Interiors can help you personalize your choice!
Subjects, surfaces and types of wallpaper
Types of Application Surfaces
The choice of wallpaper is not only about design, but also about the type of substrate on which it is made. Each type of backing offers unique characteristics that affect both the aesthetic appearance and the functionality of the installation. Here is a more detailed overview of the most common media types:
Wet System: The Wet System stand represents excellence in water resistance and durability. Completely waterproof, it is designed for environments subject to humidity and water contact, such as bathrooms, shower stalls, and kitchens. Its robustness also makes it ideal for spas, where humidity is constant.
Nonwoven Fabric : Nonwoven backing is a lightweight and versatile option composed of a combination of cellulose and synthetic fibers. This environmentally friendly material is free of plasticizers and offers ease of use when laying. It is an ideal choice for those seeking a lightweight and durable wallpaper.
Vinyl: Vinyl-backed wallpaper features a vinyl surface finish that enhances its technical performance, making it durable and easily washable. In addition to providing durability, it offers the flexibility to create different aesthetic finishes, including metallic textures. It is perfect for environments subject to heavy use and requires little maintenance.
Each type of media has its own distinctive characteristics, allowing you to choose according to the specific needs of the environment and personal taste.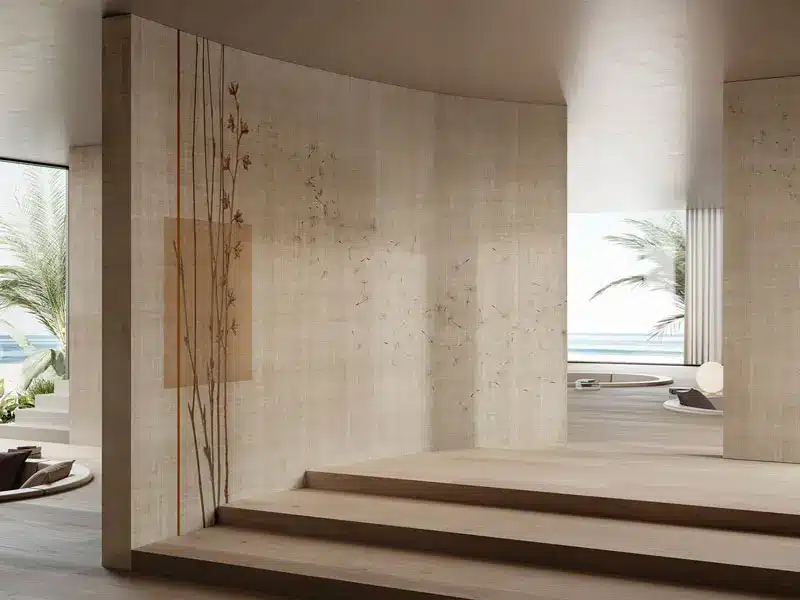 Types of Wallpaper
In the world of wallpaper, the variety of options available on the market is incredibly wide and continues to evolve as technologies and trends advance. From the luxury of custom digital printing to the sustainability of organic materials to the innovation of 3D wallcoverings, each type offers a unique set of features and benefits. Here are the main types of wallpaper:
Digital Printing: With digital printing, total customization can be achieved. The subject is custom printed for the wall in question, often on a large scale. This technology offers a wide range of possibilities in terms of size, color and graphic development. Brands such as Wall&Decò, for which Zefiro Interiors is an official dealer, offer a large collection of fully customizable subjects.
Totally Organic Materials: Some nonwoven fabrics are made from 100% natural fibers, making the substrate fully compostable and environmentally friendly. It is a suitable choice for spaces that focus on environmental sustainability while offering a natural and authentic aesthetic. Glamora's Komorebi Collection brings beauty, elegance and sustainability with its organic wallpapers.
3D Wallcoverings: 3D wallcoverings represent the cutting edge of wallcoverings. These upholstered fabric paneling offer acoustic properties and a three-dimensional surface. Ideal for creating innovative aesthetic solutions, they are certified for fire retardancy, making them suitable for contract applications as well. Brands such as Elitis present collections such as "Rayures jumelles – Pilastre."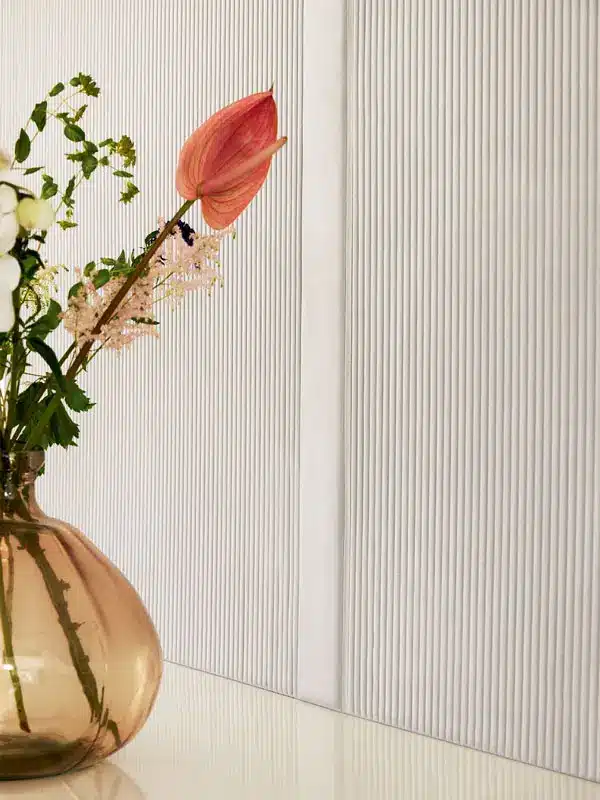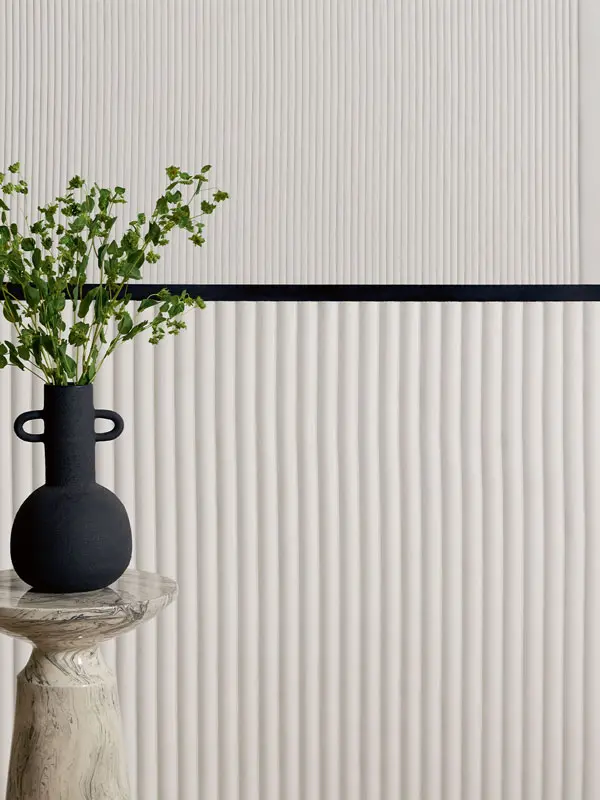 Types of Subjects
In addition to different types of media, wallpaper offers a wide range of subject categories, each with its own aesthetic and atmospheric impact. Here is an in-depth description of the different subject categories:
Panoramic: Panoramic subjects depict real life-sized scenery, creating natural or fantastic settings directly on the walls. This type of wallpaper transforms the space, bringing the world inside the room.
Geometric: Geometric designs feature regular and repetitive patterns that create a graphic and contemporary effect. This type is perfect for adding dynamism and modernity to any room.
Botanicals: Botanical subjects are inspired by the natural world, including designs ranging from foliage trends to depictions of various exotic animals. These wallpapers bring a touch of nature and freshness to the environment, creating relaxing atmospheres inspired by the beauty of the outside world.
Textural: Textural wallpapers simulate natural materials such as stone and wood. They can be handmade with layers of paper for a unique patchwork effect, or they can feature inserts of precious materials such as mother-of-pearl, creating three-dimensional, precious surfaces. These papers add a tactile and visual dimension to the environment, creating a unique and refined style.
Each type has its own peculiarities and may be more or less suitable depending on the style of the room and your personal needs. The key is to carefully consider the effect you want to achieve and how the wallpaper can blend in with other elements of decor.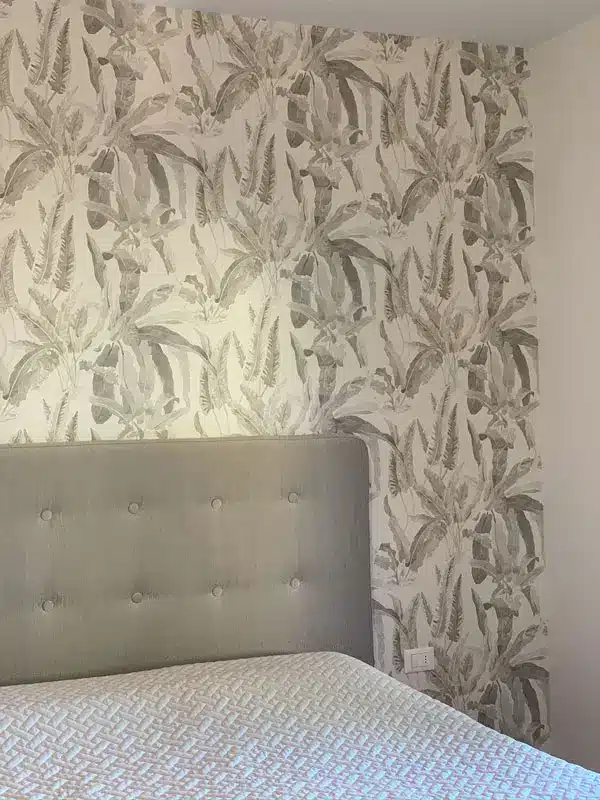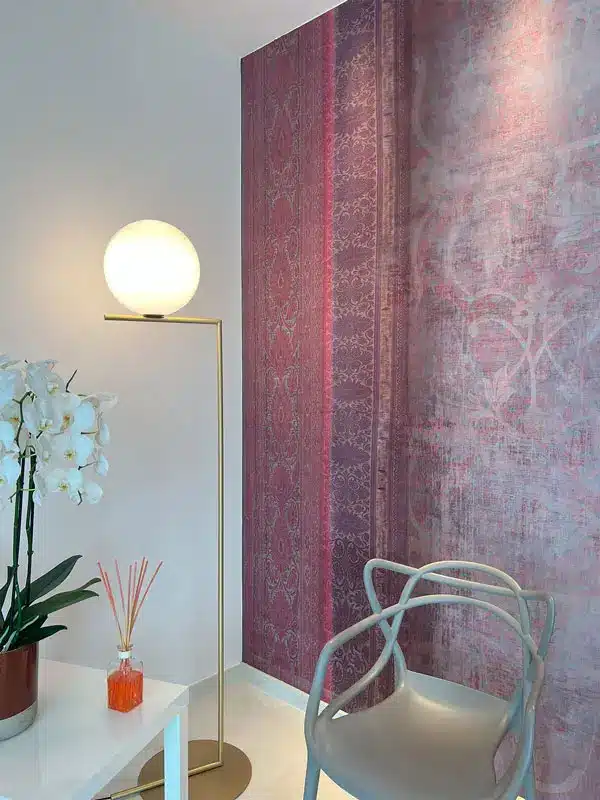 How to choose the right wallpaper
Choosing the right wallpaper is a process that goes beyond just aesthetics. Here are some key factors to consider:
Room style: First of all, it is essential to consider the overall style of the room. A wallpaper with an elaborate design might overpower an already richly detailed room, while a simpler design might look boring in an already minimalist room.
Color: Color is another crucial element. It is important to consider how the shade of the wallpaper complements the existing colors in the room. Remember that colors can affect the mood and perception of the space.
Texture: Wallpaper texture can add an extra layer of complexity. Textures can range from smooth and matte to rough or even three-dimensional, and each can have a different impact on the environment.
Durability: Especially in environments such as kitchens and bathrooms, it is important to consider durability. In these cases, a water- or moisture-resistant wallpaper may be the best choice.
Current trends on wallpapers
In the dynamic world of wallpaper, trends are constantly evolving, but some seem to resist time and passing fads. Currently, floral and botanical patterns are experiencing a renaissance.
These classic designs, often revisited with a modern twist, add a natural and relaxing element to rooms. Geometric designs, on the other hand, continue to be popular, especially when they feature bold, contrasting colors that add energy and dynamism to the room.
Another growing trend is the use of textured wallpapers. These not only add a visual element, but also a tactile one, offering a sensory richness that goes beyond mere aesthetics. Textured wallpapers can range from those that imitate materials such as wood, stone, or metal to those that feature three-dimensional effects. This trend is especially popular in environments that aim for a more refined and luxurious design.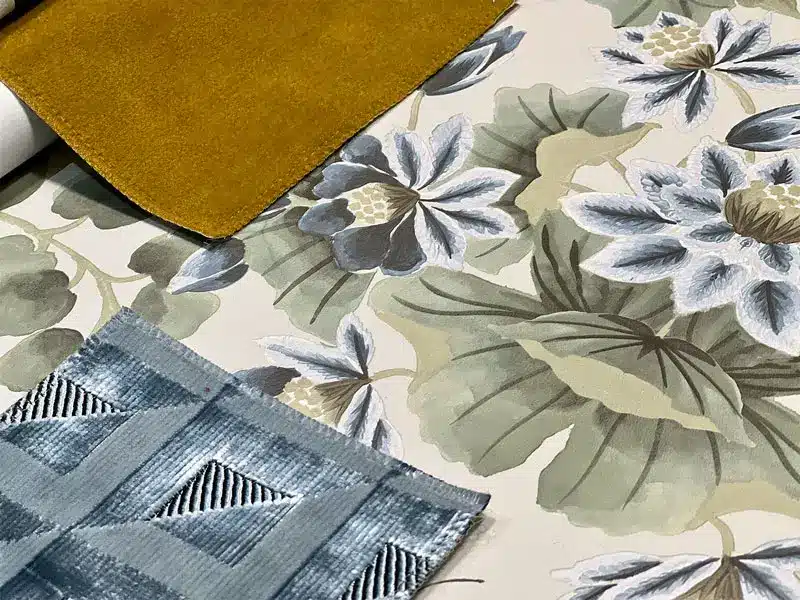 Zefiro Interiors' selection of wallpapers
Wallpaper is more than just a decorative element: it is a language that dialogues with its surroundings. For Zefiro Interiors, the choice of wallpaper is an integral part of the decorating process. We do not just consider the design alone; we also consider its harmony with other furnishing fabrics, such as curtains, upholstery, rugs, and more.
Each wallpaper collection has its own unique style, and the various types and proposals from publishers allow us to explore different scenarios, textures and color gradations. We have carefully selected a number of wallpapers to pique your curiosity. These papers represent very different worlds, but they are all beautiful for their freedom of expression and technical skill.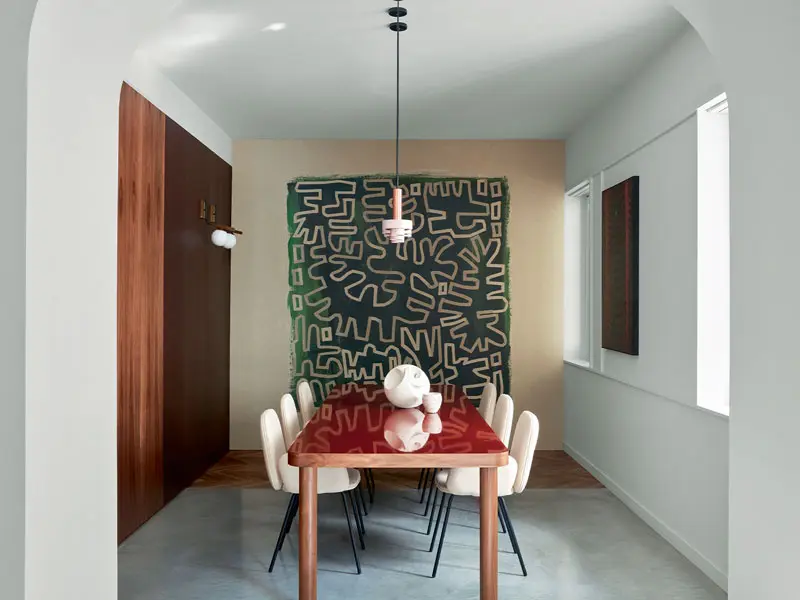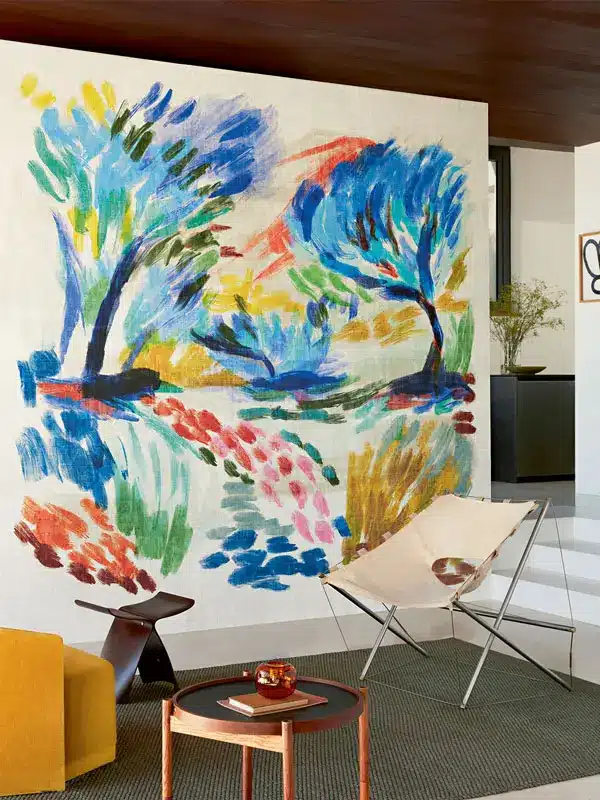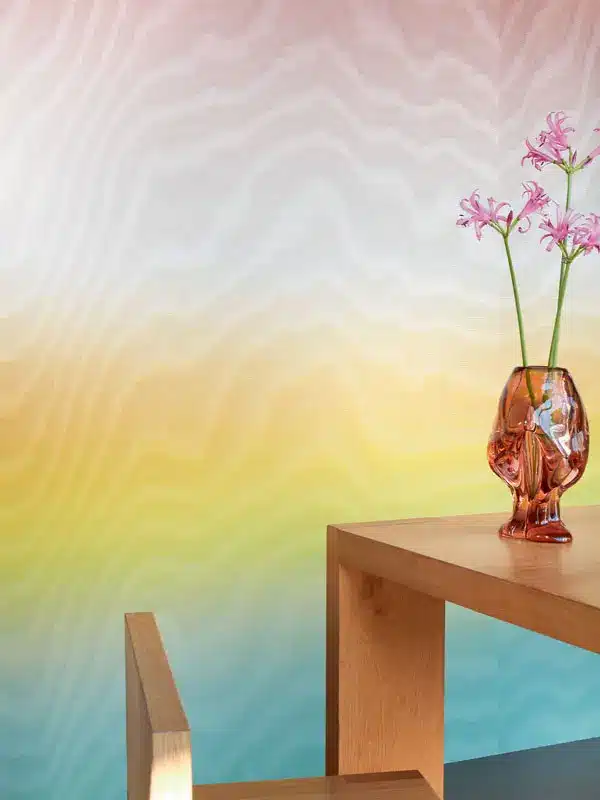 Customization and tailoring
In the furniture world, customization is often the key to transforming a home into a true "home." For Zefiro Interiors, tailoring is not just a concept, but an operating philosophy. Every customer is unique, and so should every room be.
It is not just about choosing an attractive design; it is a collaborative process in which your wishes and needs are at the center of every decision. This tailoring approach allows us to create environments that are not only aesthetically pleasing, but also reflect each individual's personality, lifestyle, and aspirations.
In this way, wallpaper becomes more than just a decorative element-it becomes a statement of who you are and what story you want your home to tell.
The counseling service
Wallpaper is more than just a decorative element; it is a way to express your personality and transform a home into a unique and welcoming place. Whether you are looking for a bold, modern design or something more subtle and classic, the key is to find the one that speaks about you.
We offer a comprehensive consulting service that goes far beyond simply selecting a design. We are more than just furniture experts; we are by your side in the journey of creating an environment that represents you.
Whether it's advice on how to match colors and textures, which brands to prefer, what types, or tips on how to use wallpaper to visually optimize the space, our consulting service is designed to be a comprehensive support. The goal is not only to help you make the best possible choice, but also to make you feel confident and satisfied with your decision.