The terrace is an extension of the house that offers a unique connection to the outdoors. A place to relax, have fun, spend precious moments with friends or simply enjoy the quiet.
Its harmonious decoration can therefore transform this area into a place of beauty and comfort. Fabrics, in particular, have the power to add a touch of style and elegance to any space, and the terrace is no exception.
The art of textiles: a luxury element for your terrace
There are a number of luxury brands that have elevated the art of textiles, offering exceptional products to furnish both indoor and outdoor spaces. Among them, for example, Elitis and Dedar stand out for the excellent quality of their textiles. These brands create true masterpieces, which, thanks to their beauty and durability, can enrich your terrace, transforming it into an exclusive outdoor oasis.
Durability and elegance: outdoor fabrics from Elitis
When it comes to outdoor decoration, Elitis represents a real reference in the industry thanks to its extraordinary ability to combine durability, aesthetics and innovation. This brand's outdoor collections do not just provide outdoor furniture solutions, but seek to go beyond that, creating true outdoor living spaces.
Resistant to UV rays, sea salt and treated to be fire retardant, Elitis' outdoor fabrics ensure extraordinary longevity, preserving their performance and beauty over time. This is made possible through the use of high-quality materials and state-of-the-art manufacturing processes, which make Elitis fabrics unique products.
The brand's various outdoor collections-such as Rio or Acosta, inspired by gardens and patios to create environments perfect for relaxation-offer a variety of fabrics with unique textures and contemporary designs. These can be used to create cozy, comfortable spaces that invite you to enjoy time outdoors. You can use Elitis fabrics to cover cushions, armchairs, sofas, or to create curtains that offer shade and privacy. Because of their versatility, these fabrics allow you to experiment with different combinations, thus creating an atmosphere that reflects your personal style.
In addition to functionality, Elitis pays great attention to the aesthetics of its products. The colors, patterns and textures are designed to create a cozy atmosphere and to enrich the terrace with a unique and elegant style.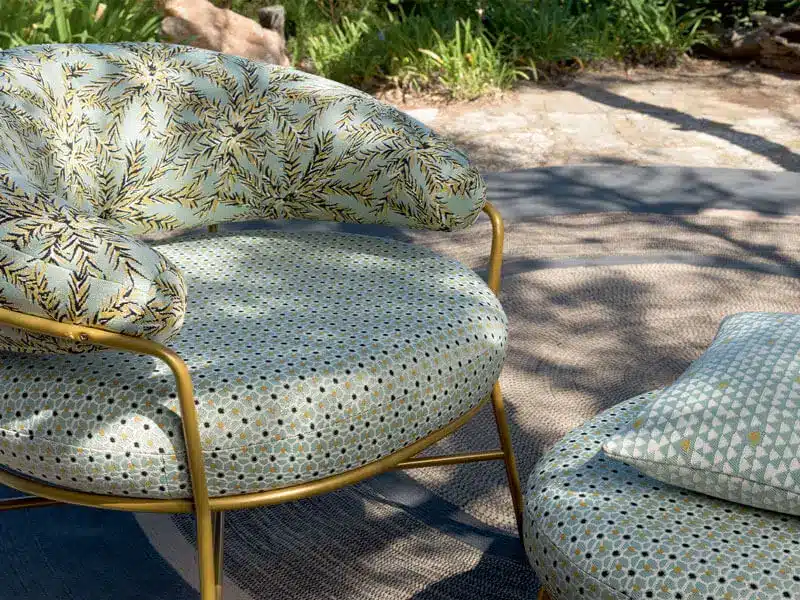 Dedar: luxury, endurance and sustainability
In the world of outdoor textile furniture, Dedar stands out for its dedication to quality and innovation. Dedar's outdoor collection features fabrics that, in addition to being aesthetically remarkable, are incredibly durable and environmentally friendly.
Let's start with Sibelius, a jacquard fabric with a textured and refined weave that celebrates textile art in all its glory. Suitable for all indoor and outdoor spaces, Sibelius is fire-retardant, washable, and resistant to abrasion, weathering, sunlight, and mildew. But what makes Sibelius truly special is its composition from recycled yarn, which reduces the consumption of virgin raw materials, manifesting a commitment to a more sustainable textile industry.
Next we move on to Mazarin, which features an intriguing jacquard weave that evokes the labyrinth, an archetypal motif in textile art. This fabric combines great texture with easy maintenance, offering a durable and elegant solution for indoor and outdoor environments. Like Sibelius, Mazarin is fire retardant, washable and resistant to various wear agents, ensuring durability and appearance.
We also have Andatura, a fabric available in four colorways, with a classic design featuring a stripe and a stitch of color that lends vibrancy and rhythm. Its versatility makes it suitable for any environment, indoor or outdoor, and its recycled yarn composition reflects Dedar's concern for the environment.
Andatura, like the other fabrics in the collection, is also fire retardant, washable, and resistant to abrasion, weathering, sunlight, and mold.
Finally, it is also definitely worth mentioning Young and Lovely, which stands out for its modern and eye-catching design. This fabric offers a lively touch that can renew any space, both indoor and outdoor. Its versatility is one of its strengths, allowing it to adapt to various styles and environments. This is also a product that exemplifies Dedar's commitment to sustainability, being made entirely of polypropylene. Practical for everyday use, it can be washed and ironed with ease. Despite its sturdiness, it maintains a light and airy appearance, perfect for outdoor use.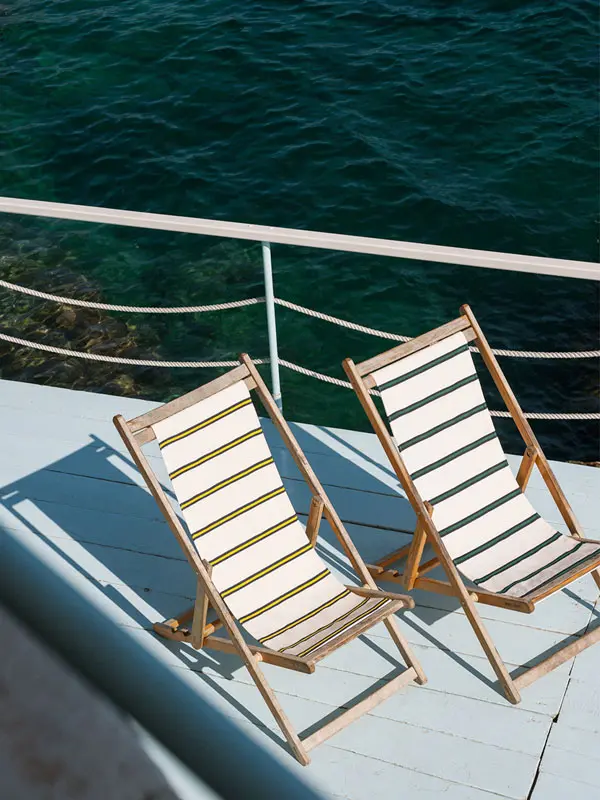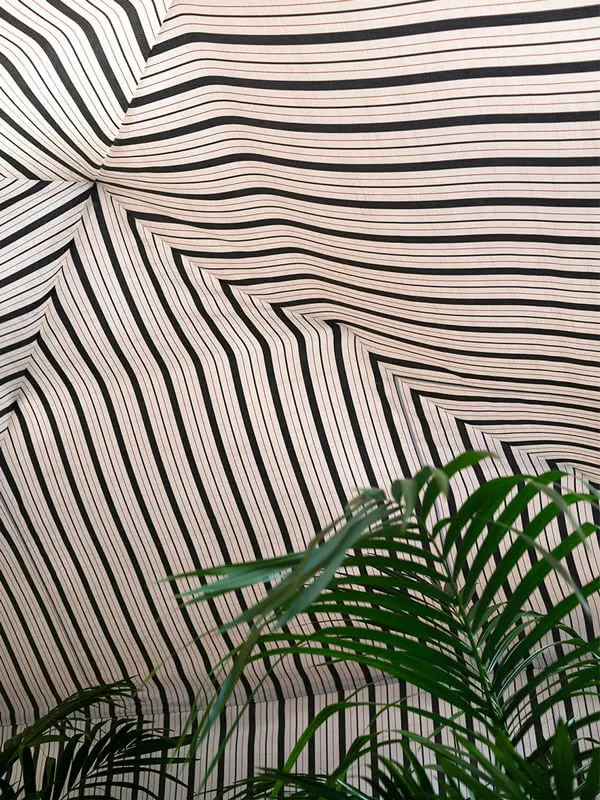 For a versatile environment: outdoor rugs from Besana
Besana's Sunset collection is a shining example of versatility and functionality. These rugs, resistant to various weather conditions, are suitable for both indoor and outdoor use. The woven fabric and wide selection of colors make it possible to create a unique and elegant environment.
A Sunset rug can serve as the centerpiece of your terrace decoration, defining the space and complementing it by adding.
You can pair it with pillows of the same color to create a coordinated look, or play with contrasts for a bolder effect.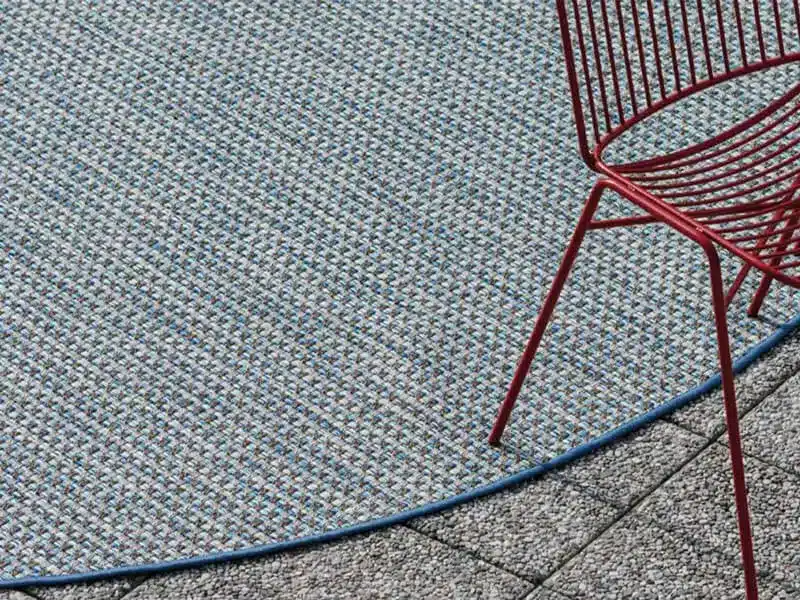 Liveliness and elegance with Etamine
Etamine's outdoor collection, distributed by Zimmer + Rohde, is an ode to freshness and vibrancy. "Heures d'été "offers a vibrant and fresh color palette with ethereal floral prints and elegant linen and silk fabrics.
"Juan Les Pins" is an homage to Grand Hotel beaches, with stripes reminiscent of umbrellas and exuding an old-world charm. "Menton," on the other hand, is inspired by the wallpapers of the 1960s, playing with polychrome colors and revealing the magic of Etamine Paris' design range through naturally textured weft threads.
Finally, "Valbonne" is distinguished by its wide vertical stripes in a modernist herringbone pattern. The jacquard reinterpretation is traversed by elegant weft threads with a natural texture, creating a fascinating play of colors.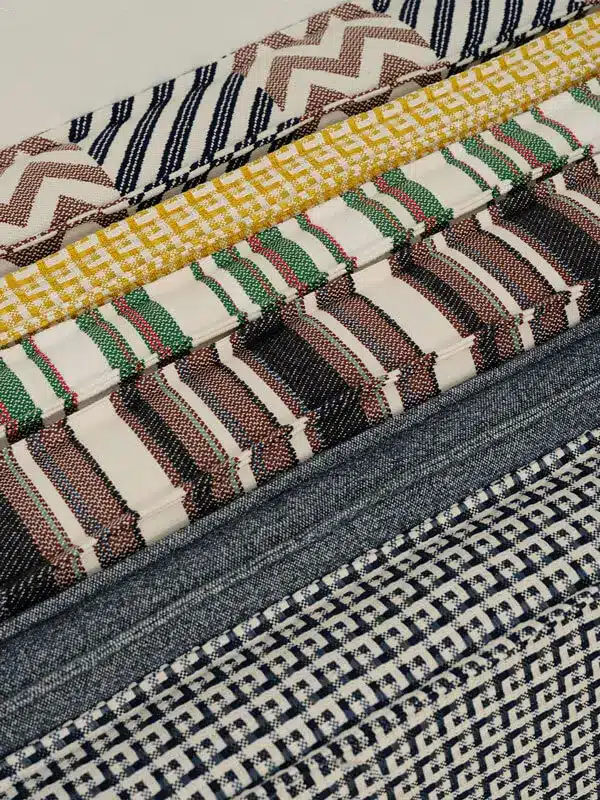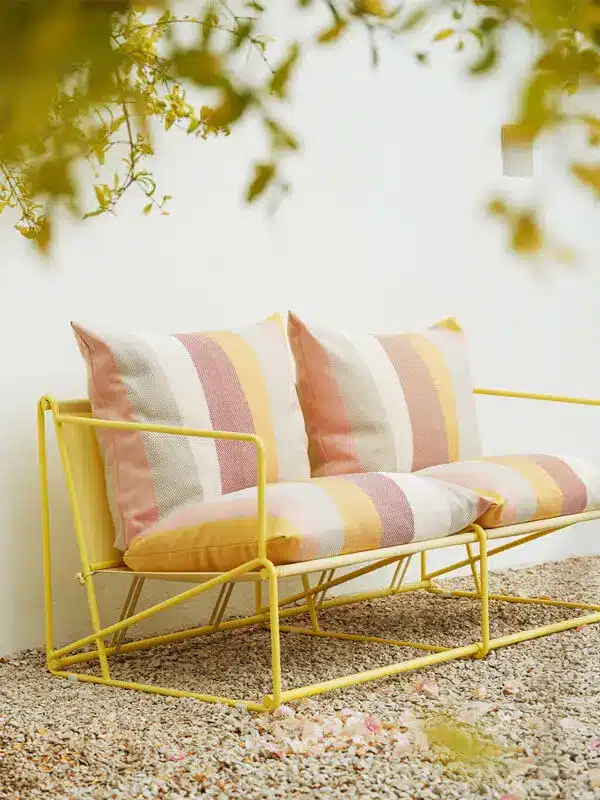 Usage tips and pairings
When choosing fabrics for your patio, it is essential to consider the interaction between them and their surroundings. The color, pattern and texture of the fabric should harmonize with the landscape and architecture of your home. For example, if your terrace is surrounded by nature, you might opt for natural shades or floral prints. On the other hand, if your terrace overlooks the sea, blue, sand or warm sunset tones might be the perfect option.
Don't forget to take lighting into consideration. Light-colored fabrics reflect light, making the space brighter, while dark fabrics can create a more intimate and collected atmosphere. Also, although outdoor fabrics are designed to withstand different weather conditions, it is important to take care of them through proper cleaning and storage to maintain their beauty over time.
If you would like to discover more ideas and inspiration for decorating your terrace, come visit us at Zefiro Interior stores in Empoli or Florence.
Here you will find collections by Besana, Elitis, Dedar and Etamine, and you can choose the fabrics that best suit your taste and needs. Make your terrace an oasis of elegance and comfort, a place to enjoy unforgettable moments in the open air!