Welcome to the world of Ralph Lauren Home furnishing fabrics, a celebration of elegance and timeless style. In this article, we explore the fascinating display of these fine fabrics in the Florence shop of Zefiro Interiors, an official Ralph Lauren dealer.
You will discover how Zefiro Interiors' creativity and expertise blend with the sophistication of Ralph Lauren Home textiles to create a magical and fascinating atmosphere. We will guide you through the different home textiles and wallpaper collections of the iconic brand and share with you our views on these textile collections.
The Ralph Lauren Home display in Zefiro's Florence shop
Ralph Lauren Home furnishing fabrics, for which Designers Guild is the exclusive worldwide licensee, are synonymous with elegance and refinement, thanks to their sophistication and the quality of the materials used. They are designed for those who appreciate craftsmanship, design and perfection in every detail: the style is always recognisable and inimitable, without equal. With a wide range of collections, Ralph Lauren Home fabrics offer furnishing solutions for every environment, from classic to modern, from casual to elegant.
With thousands of fabrics from a variety of collections, including all the best the textile industry has to offer, from Italian jacquard to Scottish tartan wool and Belgian linen, the line offers a wide range of possibilities. Likewise, Ralph Lauren Home wallpapers are rich in detail, fully capturing the luxurious and classic lifestyles of the world the brand refers to.
Regarding design, Lauren himself said he was interested in
"…style but not glitz, but refinement, class and an aristocratic demeanour that can be seen in people like Cary Grant and Fred Astaire"
The display in Zefiro Interiors' Florence shop celebrates these values, presenting a variety of collections in a refined and elegant setting. Each fabric is carefully displayed, allowing visitors to admire its quality and appreciate the nuances of colour and texture. Ralph Lauren Home's furnishing materials offer a wide range of applications: whether fabrics for ornamental draperies or upholstery fabrics, suitable either for covering a sofa or creating a fabric headboard, they can be easily integrated thanks to their discreetness and distinctive elegance.
Zefiro's passion for interior design combines perfectly with the tradition and style of Ralph Lauren Home fabrics, creating a unique experience for fans.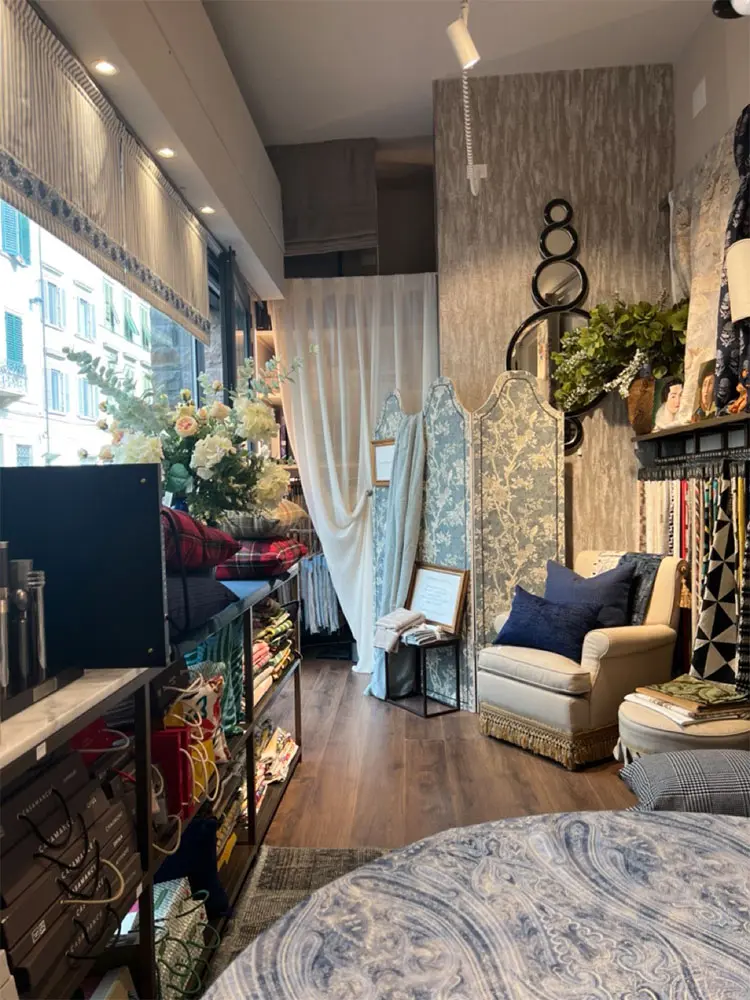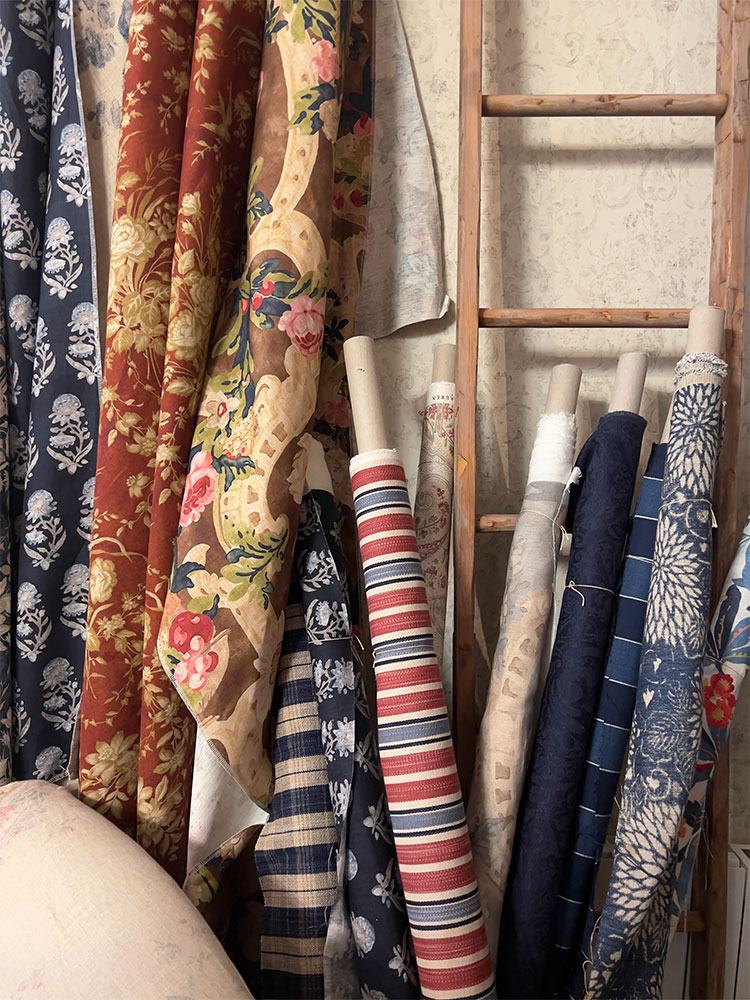 The fabrics of the Wool Plaids collection
A collection – our favourite! – that showcases the most iconic wool plaids, embracing a wide variety of styles and finishes, including the distinctive tartan, Tattersall and traditional check patterns. It impeccably embodies the authentic and timeless style that is the hallmark of the Ralph Lauren Home brand.
The fabrics of the Palazzo collection
Ralph Lauren Home's Palazzo collection is inspired by the opulence and elegance of Italian Renaissance palaces. The fabrics in this collection are made from fine materials, such as silk, velvet and brocade, and feature floral, damask and geometric patterns in rich, deep colours.
The Palazzo collection adds a touch of luxury and sophistication to any room, making it an ideal option for furnishing living rooms, bedrooms and dining rooms.
The Amagansett collection by Ralph Lauren Home
The Amagansett collection is characterised by light and airy fabrics, perfect for creating fresh and relaxing environments. Inspired by holiday homes in the Hamptons, this collection features floral, striped and checked patterns in a natural, muted colour palette. The Amagansett collection is ideal for furnishing summer spaces and living areas, where an atmosphere of tranquillity and relaxation is desired.
At the Zefiro Interiors shop, Amagansett fabrics are displayed in an arrangement that evokes the freshness and lightness of the collection. We suggest combining these fabrics with light or white wooden furniture and marine-style accessories to recreate the atmosphere of American seaside homes.
The iconic Tickings signature fabrics
Ralph Lauren Home's signature Tickings fabrics represent one of the brand's most iconic collections, known for its versatility and timeless style.
Characterised by thin and thick stripes, the Tickings collection offers a variety of colours and materials, ideal for furnishing casual and refined environments. These fabrics fit perfectly with different furnishing styles, from classic to modern, and can be used to create a wide range of visual effects.
In Zefiro Interiors' layout, Tickings fabrics are presented in a way that highlights their versatility and timeless appeal. In our opinion, they are ideally combined with natural wood furniture and wrought iron accessories for a rustic and elegant look.
The fabrics of the Blue Book collection
Masterfully crafted, the Blue Book collection captures the timeless and authentic style that defines Ralph Lauren Home. Inspired by the classic combination of blue and white, these fabrics embrace a range of easily layered patterns and techniques, including hand prints, embroidery and ticking stripes.
The Blue Book collection is a tribute to elegance and tradition, offering a variety of designs and textures that are perfectly suited to both classic and more modern interiors.
The skilful use of contrasting colours and different workmanships gives these fabrics a sophisticated and distinctive look, ideal for adding a touch of sophistication to any room.
The Archival Floral collection by Ralph Lauren Home
Ralph Lauren Home's Archival Floral collection is a celebration of the beauty and variety of the floral world. The fabrics in this collection feature detailed and realistic floral patterns in a range of vibrant and delicate colours. The Archival Floral collection is perfect for adding a touch of romantic elegance to any room, from the living room to the bedroom.
Zefiro Interiors' décor highlights the delicacy and refinement of the fabrics in this precious collection, inviting visitors to immerse themselves in the enchanted world of flowers and plants. Our suggestion is to combine these fabrics with delicately designed furniture and floral accessories to create a permanently romantic and cosy atmosphere.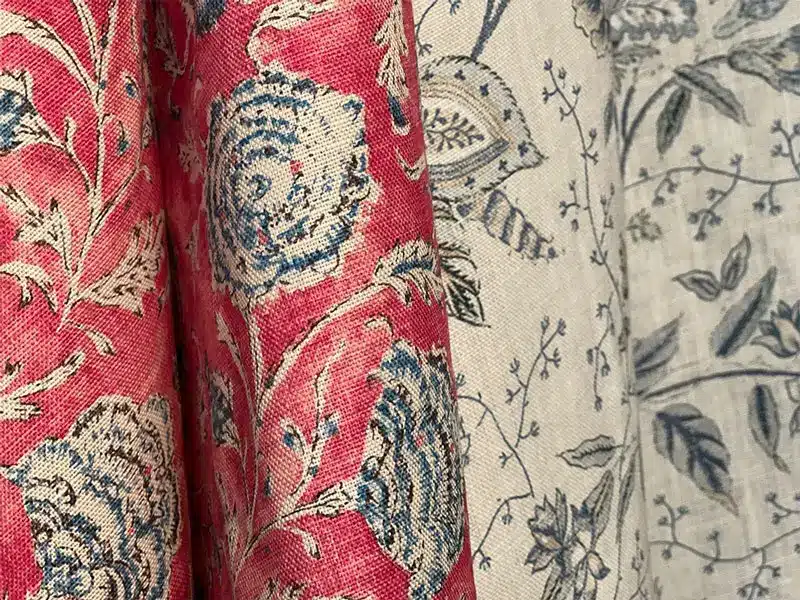 Collezione La English Riding Velvet
The English Riding Velvet Fabrics collection represents the elegance and quality of Ralph Lauren Home, offering a luxurious range of plain cotton velvets in 20 key brand colours. The colour palette ranges from indigo blues to rich burgundy tones, enabling every style and taste to be catered for.
These high-quality fabrics are extremely durable and suitable for any furnishing project, thanks to their versatile characteristics.
This collection is perfect for draperies and decorative elements, adding a touch of luxury and sophistication to rooms. With their wide range of colours and durability, these cotton velvets are the ideal choice for those who wish to combine style and elegance with practicality and durability.
Signature Trading Post II Fabrics by Ralph Lauren Home
The Signature Trading Post II Fabrics collection by Ralph Lauren Home is inspired by the atmosphere of exotic adventures and voyages of exploration of the past. The fabrics in this collection feature ethnic, animal and geometric patterns in a variety of colours and materials that evoke exoticism and adventure.
It is ideal for furnishing eclectic and cosmopolitan environments where an atmosphere of discovery and adventure is desired.
In the Zefiro Interiors shop, fabrics from the Signature Trading Post II collection are displayed in an arrangement that emphasises their originality and adventurous spirit. In our opinion, these fabrics are at their best when juxtaposed with exotic wood furniture, such as teak or bamboo, and ethnic-inspired accessories, for a unique and fascinating ambience.
The fabrics of the Signature Islesbore collection
The Signature Islesboro collection combines marine and floral motifs with sophisticated textures, taking us on a journey through the elegant and distinctive influences of the house of Ralph Lauren. Images of sailboats and tartans unfold with a carefully curated vintage spirit. Between sandy tones and shades of blue, this wallcovering series features straws, vinyls and non-wovens suitable for the most sophisticated home interiors.
Ralph Lauren Home wallpapers: the Signature Papers IV and Coastal Papers collections
Ralph Lauren Home wallpapers embody the enduring beauty and excellent quality that the brand has come to represent over time. In the Coastal Papers collection bold marine motifs combine with archival florals and traditional stripes to offer a refined expression of maritime living. Inspired by the natural beauty of rugged coastlines, this wallpaper collection combines sophisticated whites, light creams, delicate blues and intense indigos.
For Signature Papers IV, inspiration instead comes from the romantic faded floral patterns of English country houses, the refined aesthetics of city lofts and the classic ticking stripes typical of the American country style.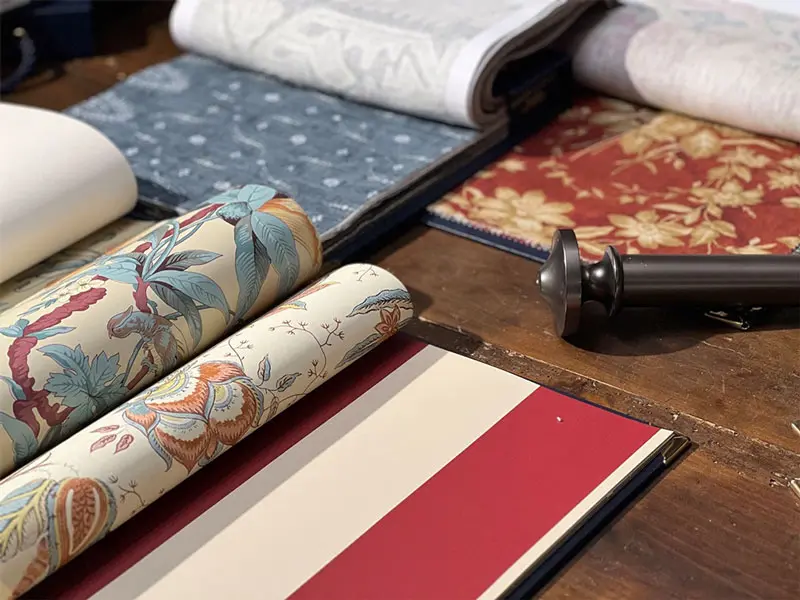 The Ralph Lauren Home cushion collection
In addition, there is a collection of ornamental Ralph Lauren Home cushions, made using materials from the different collections. Ideal to be placed on a classic brown leather sofa, accompanied by a decorative plaid blanket placed on the armrests.
The display of Ralph Lauren Home furnishing fabrics in Zefiro Interiors' Florence shop offers a unique and engaging experience, allowing visitors to discover the different collections and appreciate their quality and elegance.
Thanks to Zefiro Interiors' passion and experience, these fabrics are presented in a refined and exclusive context, which enhances their characteristics and suggests ideal combinations.
If you are looking for unique and high quality interior design solutions, we invite you to visit Zefiro Interiors in Florence and immerse yourself in the world of textiles, Ralph Lauren Home but not only. You will be fascinated by the beauty and richness of these textile works of art and you can count on our experience and expertise to realise your interior design projects.