In the furnishing of outdoor spaces, fabrics take on a key role in giving character and personality to the places where we live. In the following paragraphs, we aim to explore with you the vast landscape of outdoor fabrics, analyzing the different types and their distinctive features.
In addition, we will provide you with useful tips for choosing outdoor fabrics best suited to your needs and introduce some of the best brands in the industry, available at Zefiro Interiors!
Fabrics for the outdoors: when textiles find their space outside as well
In recent years, the focus on furnishing outdoor spaces has grown significantly, bringing to light new solutions and materials that combine functionality and aesthetics.
Textile publishers, in particular, have been able to adapt to these new requirements, offering innovative and durable solutions without sacrificing design and quality.
From terraces to gardens, via verandas and balconies, outdoor fabrics help make these spaces even more welcoming and pleasant. Thanks to state-of-the-art technologies and specific materials, cushions, curtains, sofas, armchairs and carpets can withstand the weather and UV rays, keeping their colors and properties intact over time.
The various types of outdoor fabrics
Before understanding the various types of outdoor fabrics available for those looking for an original decorating solution for their home or commercial space, it is important to note that choosing the right material can greatly affect the durability and strength of the product. Among the various options are:
Acrylic fabrics: prized for their lightness, strength and breathability, acrylic fabrics are suitable for making outdoor cushions, sofas and curtains. Thanks to specific treatments, they keep colors vibrant and resist moisture.
Olefin fabrics: made of synthetic fibers, olefin fabrics offer excellent water, stain and UV resistance. Ideal for outdoor furniture such as sofas, armchairs and carpets, they are distinguished by their remarkable durability.
PVC fabrics: totally waterproof and UV-resistant, PVC fabrics are an ideal solution for outdoor tents and covers. While they are easy to clean and maintain, they can, however, be less breathable than other alternatives.
Choosing the most suitable fabric depends on the specific needs of each outdoor space and also on one's preferences in terms of aesthetics and functionality.
It is essential to carefully evaluate the characteristics of each material to find the right balance between durability, maintenance, and design.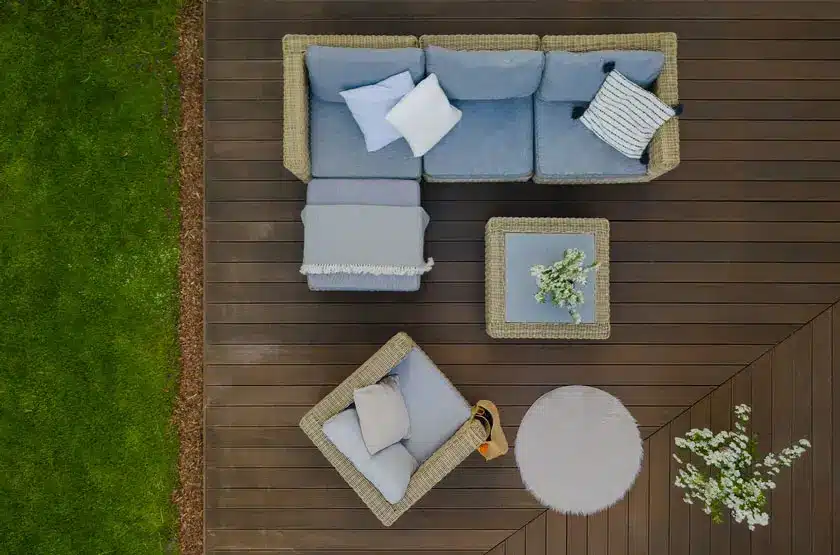 How to choose quality outdoor fabrics for your outdoor spaces
In order to navigate the selection of the ideal fabric for outdoor spaces, it is important to keep in mind one key aspect, and that is that the quality of an outdoor fabric is reflected in its ability to withstand the weather and maintain its aesthetic characteristics over time.
So here are the most important characteristics to "demand" from one's outdoor fabrics:
UV resistance: outdoor fabrics must be treated to resist sunlight, otherwise they will fade and deteriorate quickly.
Waterproofness: a good outdoor fabric must be water and moisture resistant to ensure long life.
Ease of cleaning: fabrics for outdoor spaces must be easy to clean and maintain, as they are constantly exposed to dirt, dust and stains, far more so than those for indoor use.
Breathability: opt for breathable fabrics if possible, especially if you live in hot or humid areas, to ensure maximum comfort. This is a must for the textile elements of chairs, armchairs or outdoor cushions.
Style and design: in addition to technical features, choose a fabric that matches your personal style and the decor of your outdoor space. Relying on the best brands and retailers, you can find all kinds: there is no need to give up elegance, even if the decor is outdoor!
Having analyzed the basic characteristics of a quality outdoor fabric, we now move on to present some of the best brands of outdoor fabrics, also available in Zefiro Interiors' catalog.
The best brands of outdoor fabrics, with their products
Selecting a reliable, quality brand is critical to ensuring the success of your outdoor textile furniture project. Here are some of the best outdoor textile brands you can find at Zefiro Interiors:
Pratic: Italy's leading manufacturer of outdoor curtains and covers, Pratic offers a wide range of durable, high-quality fabrics to furnish outdoor spaces with style and functionality.
Tao, Everest: Everest is an industrial company with 30 years of experience in metalworking and the manufacture of luxury indoor and outdoor curtains, using exclusive fabrics made in Italy. The Tao brand is globally appreciated for its unique design and high technological standards. It offers versatile textile solutions that suit both modern and classic settings, always curated with Italian passion and attention to detail, materials, workmanship and craftsmanship. From their catalog, we mention Versus, a motorized roller protection system for outdoor use, equipped with a satin or RAL-painted aluminum casing. The fabric, filtering or shading, when reinforced with horizontal stainless steel bars, can cover surfaces up to 5.4 meters wide per module.
Dedar: a luxury Italian brand, Dedar offers a selection of outdoor fabrics with a sophisticated design and excellent quality, perfect for those who do not want to give up elegance even outside the home. Andatura, for example, is a fabric with a classic striped pattern, ideal for both indoor and outdoor environments. Made from recycled yarn, it boasts flame-retardant, washable and abrasion-, weather-, UV- and mildew-resistant properties. Twillman & Snowdrop, both with a textured texture, combine beauty and sustainability thanks to their recycled yarn composition. In Dedar's range of outdoor fabrics, we also find Ingrid, Luchino and Pauline, which introduce classic motifs from the tailoring tradition into the decoration, adding a touch of couture personality. Libertino, as soft as velvet, is also suitable for outdoor spaces, combining practicality and beauty in one material. Finally, Mazarin is a vibrant jacquard that evokes the archetypal labyrinth motif, adding interest and dynamism to room decoration.
Élitis: a French company specializing in wall coverings and fabrics, Élitis offers outdoor furniture solutions with refined taste and innovative materials.
Designers Guild: Known for its vibrant and colorful fabrics, Designers Guild offers a wide range of outdoor furniture solutions perfect for those who enjoy a bold and creative style. Their Savine Outdoor is a collection of outdoor fabrics featuring coordinating floral and geometric patterns, printed or woven on vibrant watercolor hues. Ideal for outdoor cushions, seating and sun loungers, they are available in several elegant colors. Achara Outdoor Azure, on the other hand, features a texture of squares and rectangles with painted tonal hues, digitally printed on a sturdy, water- and stain-resistant canvas-a perfect design for outdoor seating and sunbeds.
Zimmer and Rohde: Founded in Frankfurt in 1899, Zimmer + Rohde is a company specializing in the production of luxury textiles. The company is renowned for its wide selection of fine materials and partnerships with world-renowned designers.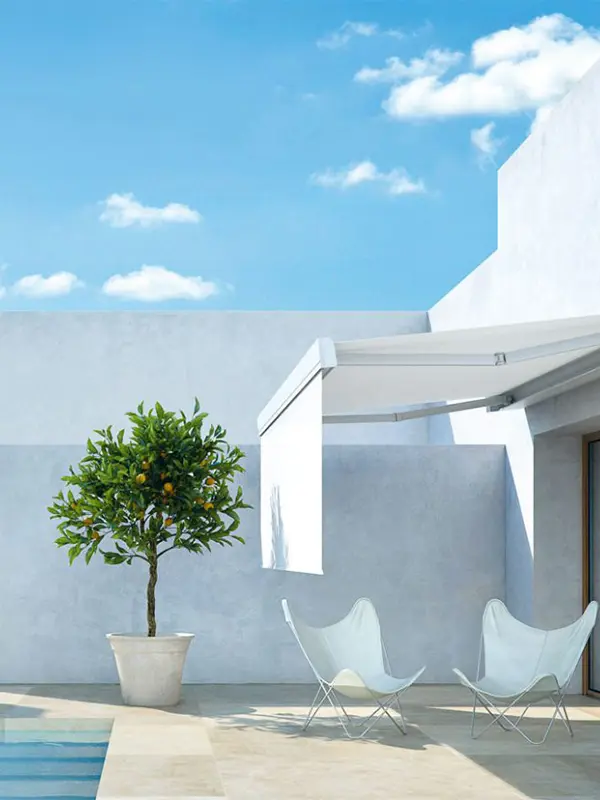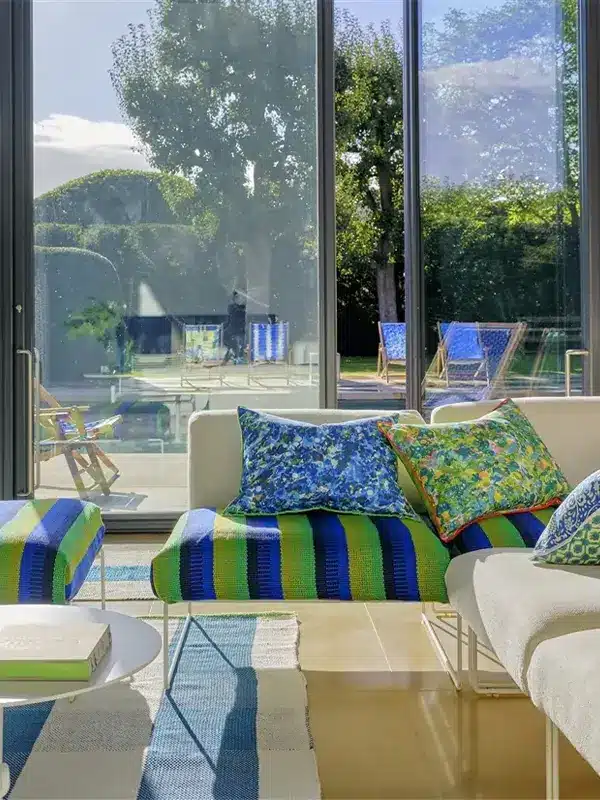 If you are ready to discuss your outdoor textile furniture project and need further advice, the Zefiro Interiors team is here to help.
Please do not hesitate to contact us for a personalized, in-depth consultation on your needs – we will guide you step by step in choosing the right outdoor fabrics for your space!