Indice dei contenuti
The selection of fabrics for home curtains offers multiple options and is a quest that involves both aesthetic and functional aspects. This process aims to balance the personal needs of the customer with those of the space in question.
Let's start with aesthetics and functionality
The stylistic context is the starting point. Taking into account existing wall coverings, the presence of parquet or specific types of tiles, the dominant colours on the walls and in the furniture, we can suggest solutions in line with the customer's taste.
Choosing one curtain over another can completely transform the perception of space. A light, impalpable veil will add a welcoming touch to an extremely minimalist environment, softening its linearity. Conversely, a heavy, decorative curtain, perhaps made of velvet, will not only darken but also improve sound insulation, adding character to an already elegant and luxurious room.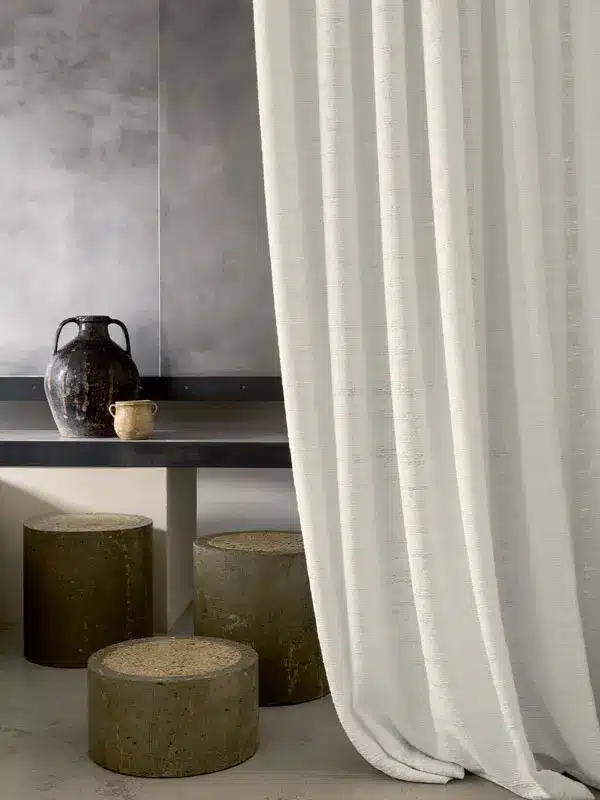 The curtain: a complement to your home décor
As in the world of fashion, each fabric follows a specific style and trend. Curtains complete the decor, personalising it and making it more homely.
We guide you in your search for the best result, for tailor-made curtains for your home. From the choice of model, which can be technical such as a Roman blind or a roller blind, or decorative such as a crimped blind, we move on to the type of technical systems available in various shapes and finishes.
The fabric is the protagonist and is selected according to various parameters, including the 'hand of the fabric', meaning its texture, body and softness. Other factors include transparency, which determines how light filters into the room, ensuring privacy and comfort, and durability and maintainability, both important aspects. Some fabrics are washable, stainable and have been treated for easy maintenance.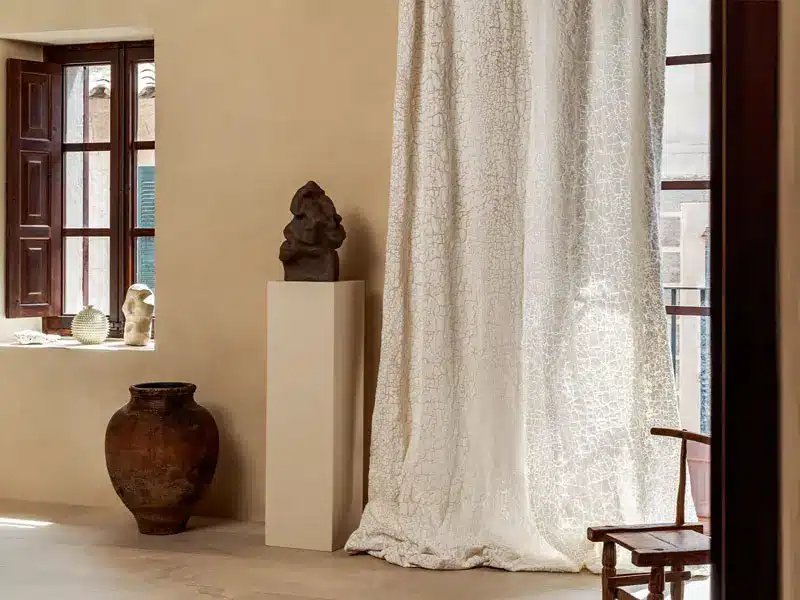 Light shielding depends on the weave of the fabric; its weight can vary from transparent to completely blackout fabrics that create a 'black out' effect. These are commonly used in hotel rooms and increasingly in the home, providing total coverage from the sun's rays.
In 'service' rooms, practicality is a primary requirement and blinds must not be bulky, but must provide privacy. In kitchens, especially near worktops, the often chosen option are packet curtains, a very functional model with minimal bulk and vertical movement. These can be customised with imaginative fabrics, perhaps embroidered, that dialogue with their surroundings. Alternatively, roller blinds, particularly models with vertical steel cables, ensure that the fabric slides along the frame even in the presence of wasistas openings.
These minimalist curtain models are also often preferred for bathrooms, where space is limited and there is a need to optimise it as much as possible.
Our advice when choosing curtains offers a range of options, illustrating all aspects to be considered. Fabrics must be touched, observed in sunlight and tried on in the environment for which they are intended. This is because light varies and the fabric's perception can change. The environment itself suggests the most suitable fabric.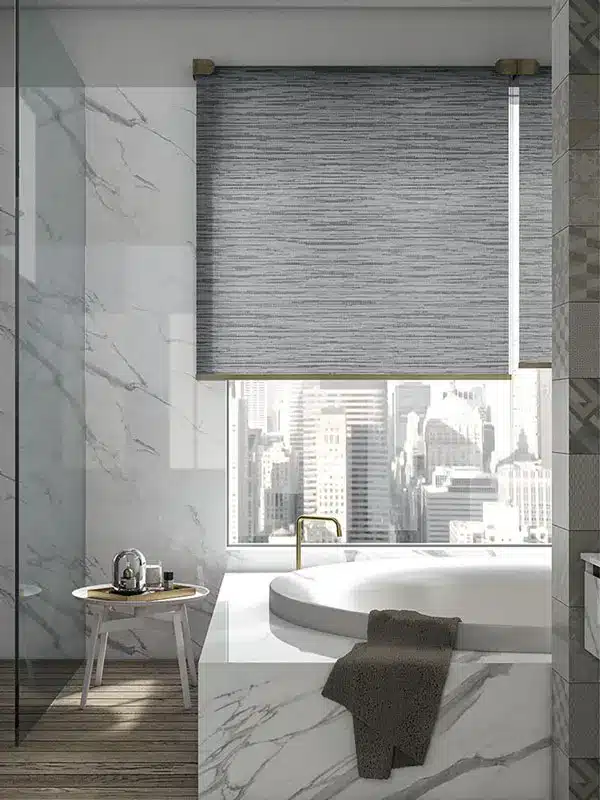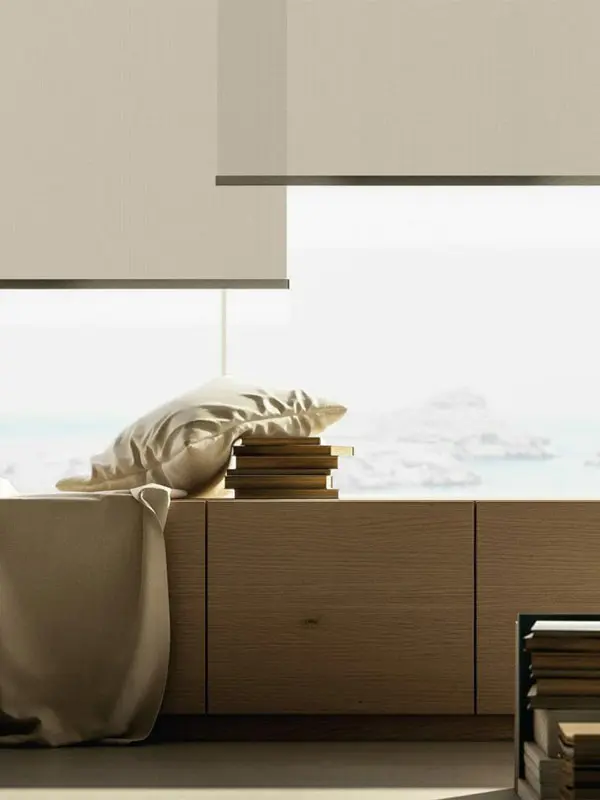 What fabric to choose for curtains?
The choice of fabric offers endless possibilities. The collections offered by textile publishers present a wide range of options, from which we draw to create the tailor-made curtain for each individual project. First and foremost, the composition of the fabric guides us towards what we prefer: natural fibres such as cotton and linen, or equally good synthetic weaves, ranging from sheers to heavy fabrics suitable for decorative curtains, such as velvet or moiré.
We can classify them according to the pattern, which can be plain, patterned, striped or in small coordinates. Furthermore, curtain fabrics, depending on the yarns used, have very different textures, ranging from shiny to matt. If a metallic thread is present, the fabric appears more elegant, while some woolen drapes are impalpable and, once installed, look impeccable.
Most curtain veils are available in different weights and natural shades such as écru and beige, which differ mainly in the weave of the fabric and the type of processing.
The creative phase is very stimulating: imagining the end result, we can combine different textures, from a textural and crispy one to one as light as a veil, perhaps adding a touch of colour, until the design takes shape.
Our passion for beauty and creativity drives us in the constant search for novelty in the world of textile publishing. We renew our sample collections every year to offer innovative and high-quality products.
If you are looking for advice for your home, do not hesitate to contact us. We will be happy to listen to your needs and support you in your furniture choices with our experience.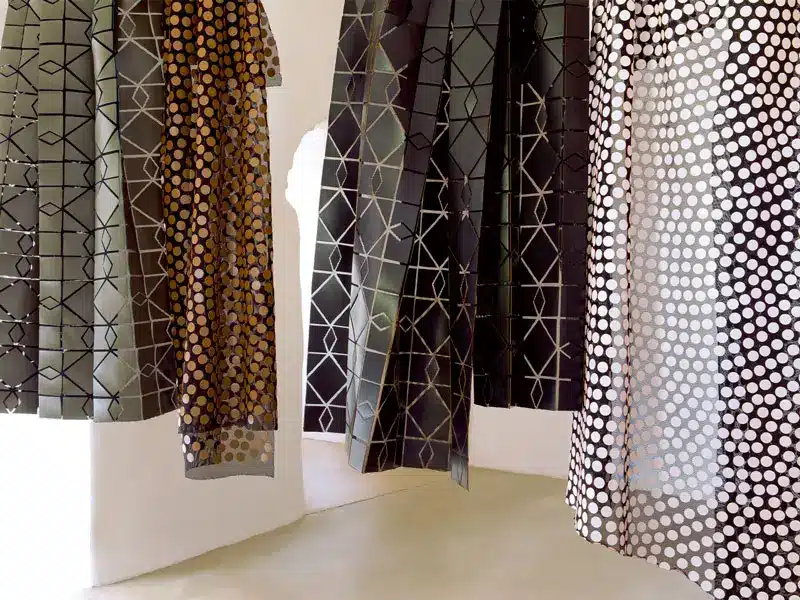 What about curtain systems: tracks, poles or pelmets?
When choosing a blind model, it is equally important to consider how to install it. For this reason, we consider it essential to carry out a preventive inspection. Various models of rails or decorative rods with rings are available on the market, in different finishes such as chrome, lacquered or satin.
These can be installed either on the ceiling or on the wall, depending on the proportions of the window and the surrounding space. We recommend placing the blind at least 15 cm away from the window frame, if space permits, to avoid glimpsing the window when entering the room.
In the case of blackout curtains, a fabric-covered pelmet is the best option. This way, the overall effect of the curtain will be rich and very elegant, even with simple and not too elaborate fabrics. In addition, light will not filter through the top of the window. In this case, it is necessary for the fabric to touch the floor by a few centimetres to prevent any light leaking in.
In conclusion, the length of the curtain is a choice of personal taste. However, in our opinion, the curtain should touch the floor by about 3 cm, both for aesthetic reasons and to compensate for any slight differences in height.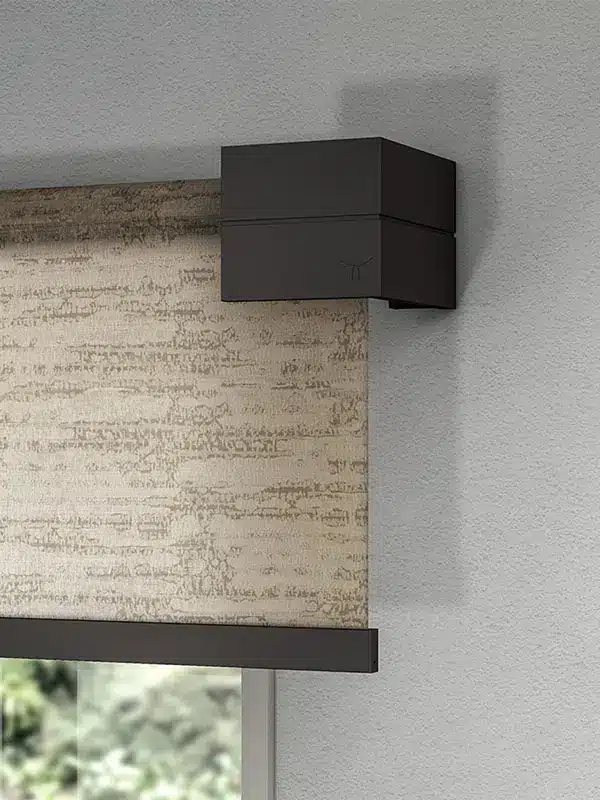 Fabrics and curtains, a marriage of style and function
Having reached this point, we hope we have clarified the main considerations to keep in mind when choosing fabrics for your curtains.
It is a balance that must be sought between aesthetics and functionality, between the style of the room and practical needs such as soundproofing and privacy. Remember, fabrics are like the 'skin' of your curtains; touch them, observe them and, above all, try them out in the context in which they will be placed. Don't forget to also consider technical details, such as the type of hooking system and length. Each element contributes to making your space not only beautiful, but also functional and cosy.
If you have any doubts or questions, do not hesitate to contact an expert: professional advice can make the difference between an ordinary choice and one that will make you enthusiastic every time you enter the room.